► The best hybrid Motability cars 2023
► Our pick of the easiest cars to live with
► Ideal hybrids for disabled drivers
Choice lists for disabled motorists and those with accessibility needs can be daunting and in this guide we'll show you the best hybrid Motability cars on sale today – vehicles that will make your transport requirements easier and save you money at the pumps. Check out also the best hybrid SUVs – larger crossover cars with plenty of space for wheelchairs and mobility equipment.
Motability is the UK's government-backed scheme that provides people receiving the mobility allowance with a choice of cars to lease at discounted rates. The Motability fleet is one of the UK's biggest, meaning that users benefit from big discounts owing to the buying power of the scheme and monthly lease rates include many running costs such as insurance, servicing and other costs.
Choosing hybrid Motability cars is a handy stepping stone to trim your bills without going the full hog and picking an electric car. Hybrid cars mix a combustion engine with an electric motor, thereby offering the best of both worlds: battery assistance chips away at fuel consumption, but equally you can fill them up in five minutes at a regular petrol pump for convenience.
Some hybrids, including the BMW X2 (below), allow you to plug in at home, so you can start every journey with a full battery. Click here for our explainer about the differences between hybrid (HEVs) and plug-in hybrid electric vehicles (PHEVs).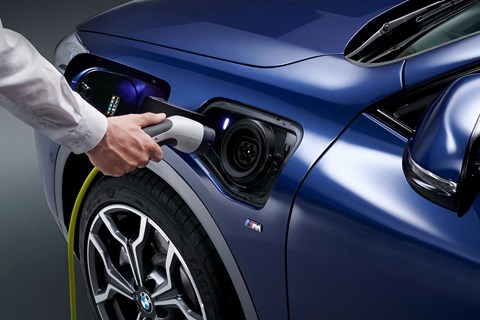 The best Motability hybrid cars offer fuel-saving drivetrain technology with practical interiors, large boots and wide-opening doors to mean that you and your family can live with them without encountering problems every day. You may also be interested in our choice of best hybrid cars in general.
The best hybrid Motability cars
Our experts have considered all the choices on the market and rounded up our recommendations into the following vehicles. CAR magazine's road testers have been offering impartial expert advice for 60 years – and the following advice is unbiased and unpaid for.
At the time of writing, there were 71 hybrid or plug-in hybrid cars listed on Motability's website – but note that not every brand is available on the official scheme and many of those models are the same make/model just in a slightly different derivative of spec. We've been through them all to select these best hybrid Motability cars for different use cases:
Best for small cars: the Honda Jazz
The Honda Jazz 1.5 i-MMD Hybrid Crosstar EX is available on the Motability scheme and, at the time of writing, had a £1499 down payment in advance. The Crosstar is a slightly more rugged version of the Jazz – one of the most resolutely sensible small cars going. Honda reliability is a given and we especially rate the clever middle-row seats which fold up like cinema chairs: ideal for stowing wheelchairs, bicycles or larger items without blocking up the boot.
Read our Honda Jazz Hybrid review
Best if you want a posh badge: the BMW X2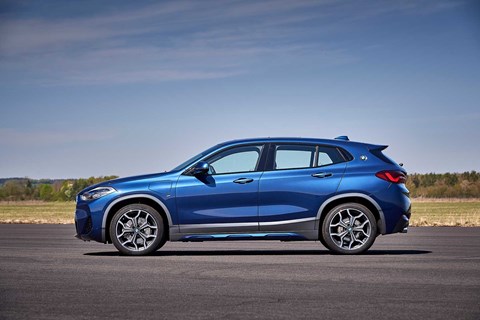 Motability lists few premium hybrid cars, but the BMW X2 Xdrive 25e is on the 2023 choice list, with an advance payment of £7999, making it one of the more expensive choices. Then again, you do get the BMW prestige and senior-level quality and features you'd expect of a car hailing from Munich. The hybrid powertrain is clever and as our review below attests, it's a dynamic, rewarding drive. The BMW X2 has a higher stance to make it easier to get in and out of than, say, a 1-series, but be warned this isn't the largest crossover going.
Best hybrid SUVs with easier access: the Peugeot 3008 and Hyundai Tucson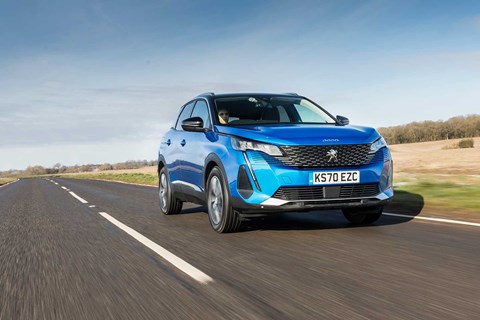 The Peugeot 3008 1.6 Hybrid 225 GT is available on the scheme and is a popular choice for Motability buyers – and for good reason. Down payments start at £3999 at time of writing and that's enough to secure a very roomy SUV with a high-up driving position that's easy to slide into, a good level of equipment and it's decent to drive.
Read our Peugeot 3008 Hybrid review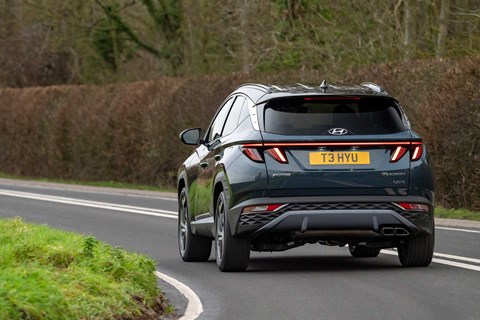 Meanwhile, the Hyundai Tucson (above) is another mid-sized crossover to make the list. Motability lists the 1.6 TGDI Plug-in Hybrid as available with a £5099 advance payment. The Tucson is a striking, very modern-looking family SUV and bursting with features. There is plenty of space in the boot for wheelchairs and walkers.
Read our Hyundai Tucson Hybrid review
Best for zero deposit: the Renault Clio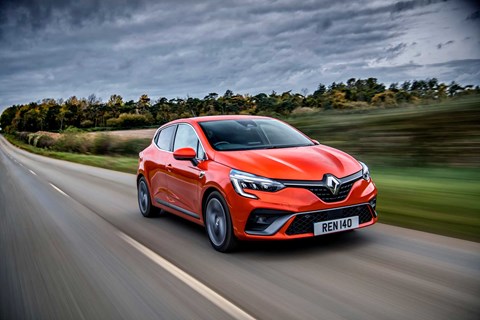 Every Motability customer's needs are different and some motorists may be happy with a smaller supermini – which is where the Renault Clio 1.6 E-Tech Full Hybrid 145 comes in. Smaller cars = smaller bills and you'll need to rustle up no deposit in advance whatsoever with this bargain of a hatchback. Granted, there is less space for wheelchairs and mobility aids, but the Renault hybrid drivetrain works well.
More on Motability
Check out the Motability website for more background on the scheme for disabled drivers. If you cannot use their online resources, you can also call the organisation on 0300 456 4566.
Do you agree with our list of Motability hybrid cars? Be sure to sound off in the comments below!