Google has launched its own alternative to ChatGPT, which it says will be able to help car buyers select a vehicle using artificial intelligence.
The tech giant has unveiled 'Bard, a conversational AI language programme which it hopes will revolutionise the way people buy cars.
During a presentation to introduce the platform, Prabhakar Raghavan, senior vice president at Google, name-checked the automotive industry as a way the technology could be utilised.

It is hoped the bot will be able to help buyers gather information and pick out the best deal when buying a new or used car.
'Let's say you are in the market for a new car,' Raghavan said. 'One that is a good fit for your family.
'Bard can help you think through different angles to consider from budget to safety and help you to simplify and make sense of them.

'Bard's suggestion to consider fuel type might spark your curiosity so you can ask it to explain the pros and cons of buying an electric car and get helpful insights.
'We all know that, once you buy a new car, you have to plan a road trip. Bard can help you plan your road trip so you can take your new car out for a spin.'
Expanding further on how the system could be used to buy a car, the bot was asked: 'I want to buy a new car for my family. What should I consider?'
In response, Bard generated an answer telling the user to consider their budget, seating, features, safety and fuel type.
It also offered further advice, saying: 'Ultimately the best car for your family is one that meets your needs and fits your budget. Test drive a few different models to find the perfect one for you.
The full exchange can be seen below: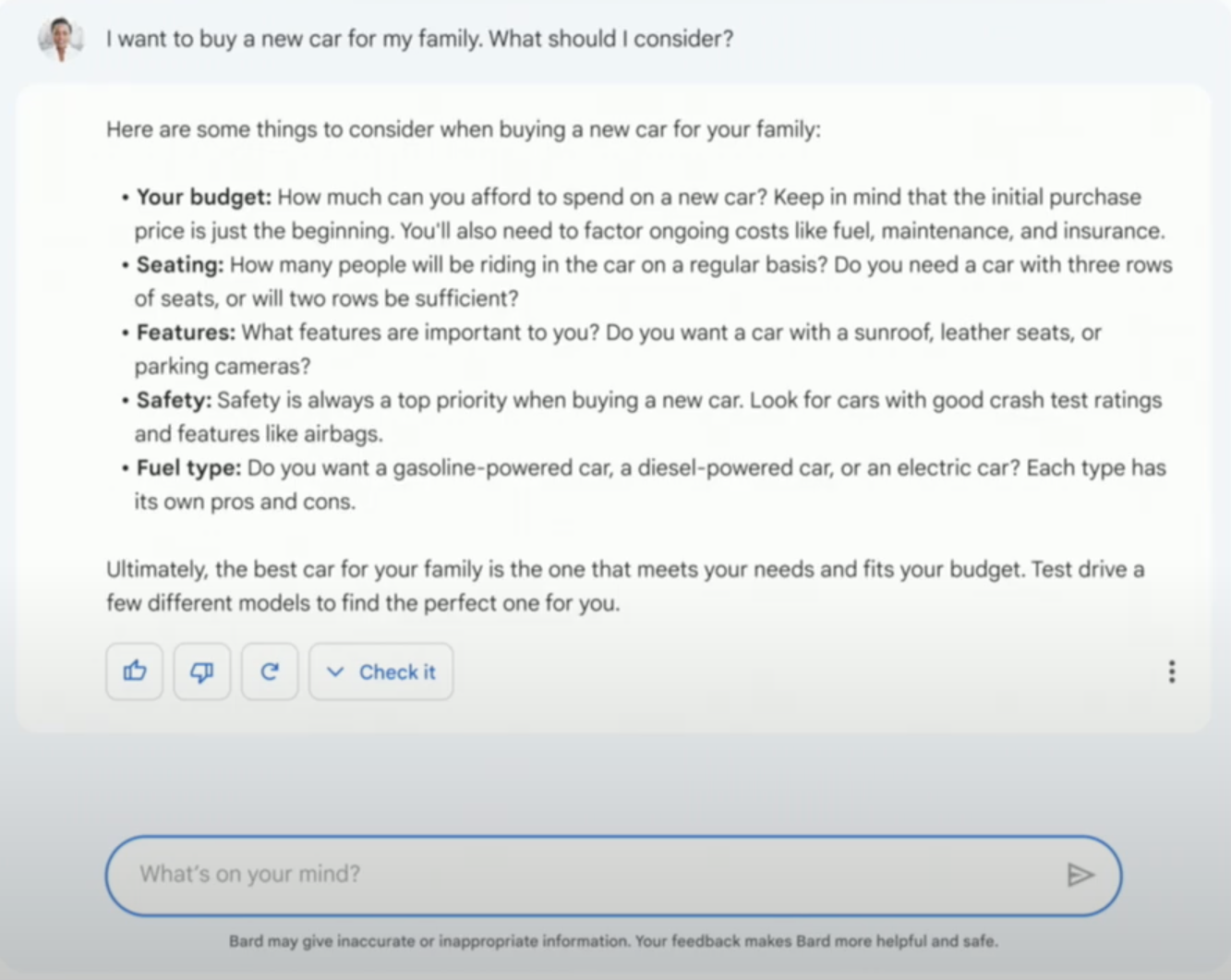 In another example, the user told Bard 'Help me understand the pros/cons of an electric car'.
In response, the AI produced two detailed lists of advantages and disadvantages to each, which can be seen here: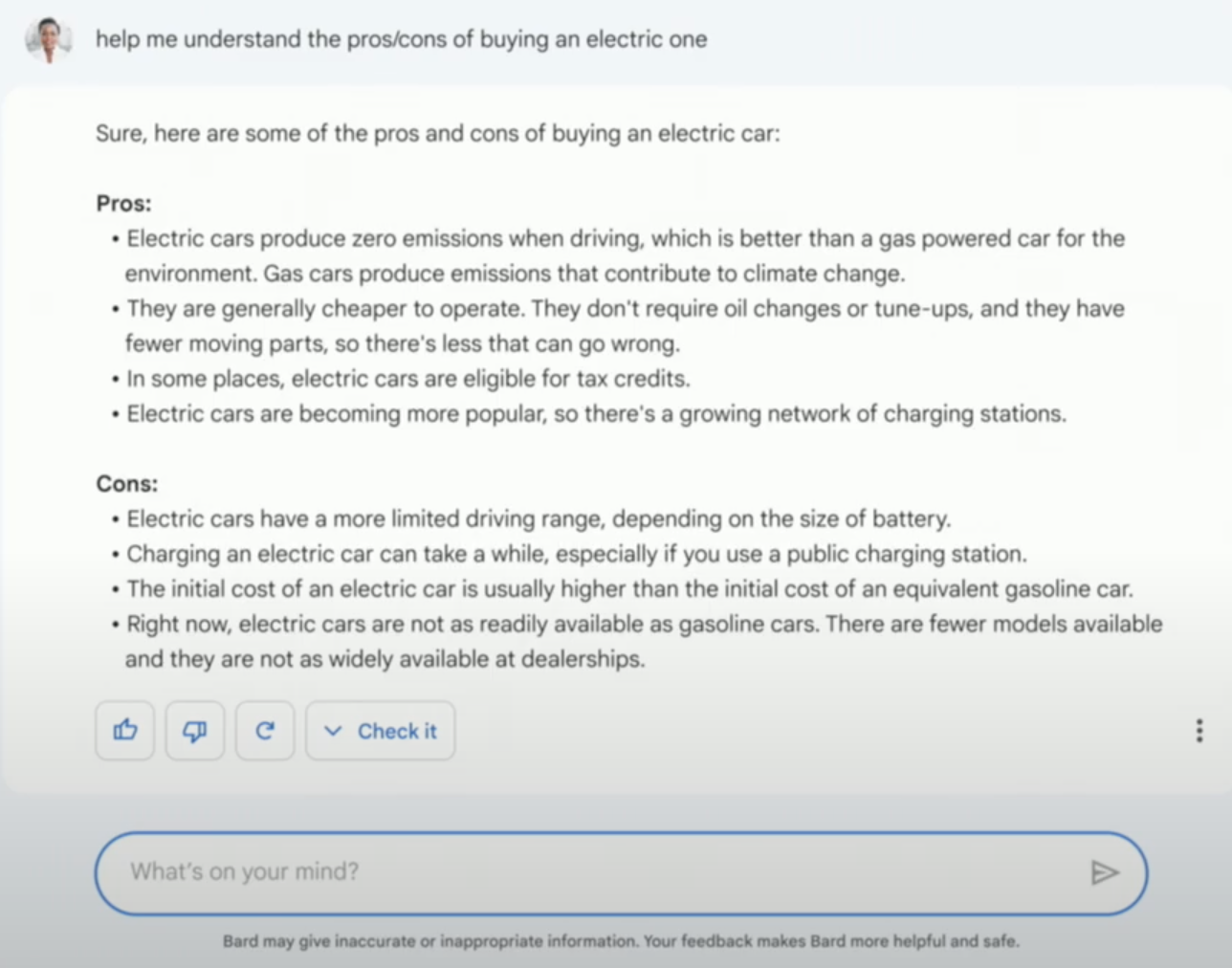 Bard will use Google's existing Lamda software, which was described last year by an engineer as 'sentient' and the intellectual equivalent of a human child.
Blake Lemoine, 41, was sacked by the firm after making the claims, which it described as 'wholly unfounded' and bosses have promised to protect users from harmful content.
Explaining the aim of Google's new AI bot, Raghavan added: 'Bart seeks to combine the breadth of the world's knowledge with with the power, intelligence and creativity of the large language models.
'It draws on information from the web to provide fresh, high quality responses.'
Bard follows in the footsteps of ChatGPT, which has taken the internet by storm thanks to its accurate responses to all manner of questions.
You can read what happened when we interviewed the bot about the used car market here.
Google will also be speaking at Car Dealer Live, the future of the car dealer, which will be held at the British Motor Museum, Gaydon, on March 9.
Ben Gault, automotive industry manager for Google UK, will deliver the search giant's research which will look at the growing importance of omni-channel retailing for car dealers.
You can watch the Google presentation and the exchange on YouTube below. The video will start at the relevant point.
---
Car Dealer Live – the future of the car dealer – exclusive conference features talks from leading car dealers, Google and Auto Trader among much more. Find out the full event details and book tickets.